Cambridge, MA has more than just one powerhouse university. Not too far from Harvard is also Massachusetts Institute Technology, which is more commonly referred to as MIT. For those dreaming for a career science and engineering, MIT is bound to be on the top of the list. But with an acceptance rate of just 7.8% for the most recent Class of 2020, how can you one of the lucky few with the winning ticket? Take a look at the following essay intros from MIT students on AdmitSee:
Derpqwq
Class of 2020
If my life were a play, there would be two sets, two acts, and two sets of characters. Like many first-generation Americans, I was born in the US to immigrant parents who spoke a foreign language, cooked foreign foods, and lived a foreign lifestyle in a crime-ridden community on the "wrong side" of the SEPTA tracks. But, unlike my neighbors, I was shipped away. Keep reading.
TimTheBeaver
Class of 2019
Numerous elementary and middle students my age were looking forward for the school day to conclude with the final bell. I, however, did not represent the typical student as I dreaded the end of the school day. While my classmates welcomed the afternoon by playing outside and enjoying the day, I would arrive home only to aid my family in our restaurant. Read on.
Ekewokocha
Class of 2020
The blare of the buzzer reverberates throughout my living quarters at 05:00 every morning.
Today's uniform: faded red sweater and my favorite pair of knock-off vans. "Time to head out," but before I leave, I check to see if my guardian is awake to continue the morning procedure. At 06:01 exactly, I start my 2 hour and 14 minutes commute to school. View full profile.
Cookiemonster
Class of 2018
I recite ancient Chinese poems, but adore Jane Austen. I devour spicy chicken feet, but drool for ballpark franks. I dream in Chinese, but think in English. 10 years ago, my family moved to China from the US, and bridging these two cultures has become part of my identity. Every morning, I take the bus to an American school next to a fishing village in the outskirts of Shanghai. As I step off the bus, uniformed guards greet me with a bright-eyed "Goo-da morning!" To the school, they are local employees who ensure the safety of our community. But to me, they are optimistic students, motivated learners, and the highlight of my week. Keep reading.
Starnite
Class of 2019
There is a hefty blue book in my bookcase that is older than any other book in the house. Across its spine are emblazoned the words My First Encyclopedia. For others this book might have served as a passing interest or an occasional point of reference; for me, it was the quiet, unremarked, yet vastly monumental introduction into a life shaped by the tenets of science. Read full essay.
Applying to college?
View the app files and essays of accepted students.
LEARN MORE
Are you looking to apply to MIT? Make sure to search through profiles of students accepted to see essays, stats, and advice. See how they got in, and how you can too!
About The Author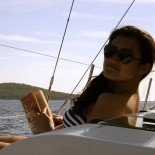 Frances Wong
Frances was born in Hong Kong and received her bachelor's degree from Georgetown University. She loves super sad drama television, cooking, and reading. Her favorite person on Earth isn't actually a member of the AdmitSee team - it's her dog Cooper.
QUOTE:
(i) Never use a metaphor, simile, or other figure of speech which you are used to seeing in print.

(ii) Never use a long word where a short one will do.

(iii) If it is possible to cut a word out, always cut it out.

(iv) Never use the passive where you can use the active.

(v) Never use a foreign phrase, a scientific word, or a jargon word if you can think of an everyday English equivalent.

(vi) Break any of these rules sooner than say anything outright barbarous.
-excerpt from George Orwell, "Politics and the English Language", 1946.
-----
So once upon a time, I wrote a blog comparing the college essay to froyo. Since then, the application has been revised, and although I still believe in the merits of the first blog in regards to a long college admissions essay (500-1000 words), it definitely doesn't apply completely to the new short-answer system that MIT adopted.
A few months ago, I created a bogus account on my.mit.edu so I can actually catch a glimpse at what the new application looks like (it really doesn't look that different, ha) and I've been thinking about how I would approach these essays. Although nothing here is the product of intense cognition, I thought I'd share some of my views on these small essays.
Essentially, you have 5 "mini-essays" - What You Do For Pleasure ("pleasure" - 100 words), Department at MIT ("department" - 100 words), What You Do That's Creative ("creativity" - 250 words), World You Come From ("world" - 250 words), Significant Challenge ("challenge" - 250 words), and that's it! Less than 1000 words total.
The easy things first - the "Pleasure" and the "Department" prompts are not really "essays," but short answers, so they can be easily answered. My advice is just to go ahead and be honest with them (well, you should be honest in your entire application ;P), especially with the "Pleasure" essay. The admission officers ("adcoms") are not looking for "standard" answers, and you won't get brownie points by putting down "programming," "building robots," or other "MIT-y" answers (although they also definitely won't penalize you if they do happen to be things that you do for fun). Just be honest!
Many people stress out about the "Department" essay, but I can tell you that MIT DOES NOT admit on a quota, and you WILL NOT be penalized by which department you put down on that blank (I don't know how many emails I've gotten on this subject already - seriously, the adcoms are not lying at you, and no - there is no conspiracy either). Therefore, you will not seem more impressive if you put down Philosophy, over, say, Mechanical Engineering. When I applied, I put down Chemical Engineering (oh, such were the days of my innocent youth, when I believed that Chemistry was trivial), but now I'm happily a Biology (and pending History) major. Your interests may shift after you enroll at MIT (and realize how brutal some of the courses here can be), and that's perfectly fine! So don't worry too much.
For the "Creativity" essay, I would encourage you to look at the connotation of "creativity" from a new angle (in a sense, be creative about exploring creativity :P). You can go broader than physical things like creative projects or creative inventions. I would investigate writing about creative ideas, creative ways of looking at things, creative ways of solving problems, for example. I wrote about a concrete research project I did when I applied, but I thought that was quite boring in comparison to the other things that could have written about, so I encourage you to explore this topic a bit further. :)
Ah - ok, now we come to the challenging 250-word essays.
So back in the day, we had a choice between these two essays to write a long essay on, but I guess now they're requiring you write on both of them, but as shorter essays.
Actually, I really enjoyed the "world" essay - and I thought it was the one of the best prompts out of the prompts for the 15 colleges that I applied to (number one was still Stanford's "photograph" prompt - I loved it. Sorry MIT :P). The challenge now, however, is how to condense all the things you want to convey into mere 250 words.
In order for me to see what a 250 word word limit is really like, I wrote a 250 word essay. Not on MIT's prompts, though.
He held up the sheet of wrinkled paper, his eyes in silent protest.

The tattered bill requested 13,800 dollars for a three-day hospital stay.

"Why call the ambulance? Just leave me alone!" the frail old man muttered. Just a week ago, Mr. Vu suffered a stroke that required hospitalization. Because he could not understand English, Mr. Vu had not applied for health insurance, resulting in the exorbitant bill.

An internship at an Asian clinic opened my eyes to the untold story of limited-English proficiency patients, who often struggle to obtain health care in a maze of foreign forms and convoluted policies.

Suffering from a worsening stomachache, Mrs. Wong was neglected in the county hospital for over two hours, unable to flag down a passing nurse for assistance because of the language barrier. Clutching a X-Ray order, Mr. Park searched in vain for Radiology in a blinding flurry of English letters.

Over the summer, these stories became too common - accounts of immigrants fighting for their right to care in a shockingly monolingual health system. After the internship, I participated in a medical interpretation training program and was licensed as a Mandarin health interpreter in November. I wanted to change the status quo.

My experiences this summer solidified my conviction of entering into public health, especially immigrant health, as my future course of study. America has long prided itself as a "melting pot" of cultures. Isn't it only fitting that there exists equitable access to health care, regardless of the language spoken?
The word limit is kinda short.
Now, a disclaimer: I want to stay that this is not intended to be a "model essay" (I think the ending can use some more work, among other things), but I thought this would be easier in illustrating a point.
If you look at the essay, I like going narrative -> point -> how it connects to me. In fact, this is what I use for most of my essays :3
Here's the same essay, deliberately made worse (but to illustrate a very common problem in college application essays):
Last summer, I worked in an Asian clinic in Oakland, California. Over the course of the summer, I realized the plight of immigrants when it comes to obtaining equitable health care. In the modern health industry, immigrants and other residents who possess limited English proficiency are often overlooked because of their inability to communicate their symptoms to the doctor and complete paperwork in English. This problem is exacerbated when they cannot apply for health insurance, resulting in exorbitant health bills. In a country that claims to be the "melting pot" of cultures, this kind of neglect is no longer acceptable.

Many patients suffer extended waits in the hospital, unable to obtain assistance. It is possible that a worsening stomachache is the initial sign for appendicitis, which needs to be treated expeditiously. Often, hospital signs are also not translated into other languages, making navigation difficult for elderly patients. These scenes are played across hospitals in the nation everyday.

After my experiences this summer, I realized that I wanted to channel my energy into the revitalization of this system. It is no longer sufficient for us to stand on the sidelines and watch. To this end, I participated in a medical interpretation training program and was licensed as a Mandarin health interpreter. I hope I will be able to contribute my efforts to the field of public health, especially immigrant health, in the future. These patients cannot afford to passively wait for language-accessible care and continue to sacrifice their right to treatment.
Also 250 words, but this essay is riddled with problems, many of which Orwell pointed out in the blurb above.
1. The essay is filled with extraneous and needlessly difficult words. ("I wanted to channel my energy into the revitalization of this system")
2. The essay lacks a personal voice - it's very passive ("These scenes are played," "immigrants are often overlooked," "the problem is exacerbated")
3. The essay never "shows" - it only "tells."
-----
Show, don't tell!
I can't emphasize this enough. This essay points out many problems of the health care system, but doesn't offer any examples of the problems. At the end of the day, which essay will readers remember better? An essay that speaks in general terms or Mr. Vu with his bill?
Personally, I think after MIT made the switch from the long essay to short essays, this point is even more pertinent. You just can't afford to waste words speaking in vague terms that doesn't convey much in terms of meaning.
When adcoms read thousands of essays on end, you need to stand out. Ideally, your essay should pack enough punch (that's a cliche :P) so that your readers have a "take-home message" (another cliche :P). Simply put, you need something memorable about your essay. If you feel bored writing your essay, chances are that the person reading your essay will be bored too. Make it vivid - let your story shine.
Finally, the other point I want to convey:
Trim the extra fat!
I narrowed down the first essay from over 400 words to just 250. Chances are, you can do the same too. The second essay is plagued with extraneous words, and actually it can be narrowed down to just this without loss of meaning:
Last summer, I worked in an Asian clinic, where I realized the struggle of immigrants in obtaining equitable health care because of the language barrier. They often cannot apply for health insurance, resulting in exorbitant bills. This is not acceptable in America, which claims to be a "melting pot" of cultures.

Many patients suffer long waits in the hospital, unable to get help. A worsening stomachache can lead to appendicitis that requires rapid treatment. Often, signs are only written in English, making navigation difficult for elderly patients.

It is no longer sufficient for me stand on the sidelines - I want to make a difference. To this end, I participated in a medical interpretation training program and was licensed in Mandarin. Eventually, I hope I can work in the field of public health, especially immigrant health. These patients cannot afford to passively wait for language-accessible care and continue to sacrifice their right to treatment.
This new essay is only 154 words. Although it definitely sounds stilted and shouldn't be submitted as a complete essay, it still goes to show how much excess fat one can usually trim from a typical essay.
Not to reiterate myself too much from the previous blog that I wrote, but the effective essay, IMO, is the essay that really shows who you are, where you're coming from, and what your loves are - in your own voice. Both the "world" and the "challenges" essay are structured so that it's focused on you and your stories. Use these opportunities to tell a story - to convey who you are. There's no need to repackage your tale in fancy rhetoric or educated vocabulary.
Just as we see in world literature: often the best stories are, really, the simplest stories.