The Dog Ate My Homework Episode 2
The Dog Ate My Homework
Genre
Developed by
Directed by
Pati Marr
Presented by
Starring

Chris Lawrence
Stephanie Fulton (2014)
Susan Morrison (2015)
Ian West (2015-present)

Narrated by

Charles Donnelly (2015–16)
Neil Macgillivray (2016–present)

Composer(s)
Syncbox
Country of origin
Britain
Original language(s)
English
No. of series
5 + 1 special
No. of episodes
50
Production
Executive producer(s)

Sara Harkins (2014–15, 2016–present)
Yvonne Jennings (2016)

Producer(s)

Richard Grocock (2014)
David Noble (2014)
Margaret Anne Docherty (2014–15)
Chris Hulme (2016–present)

Running time
28 minutes
Production company(s)
CBBC Productions Scotland
Release
Original network
CBBC
Picture format
16:91080i
Audio format
Stereo
Original release
17 January 2014 (2014-01-17) – present
External links
Website
The Dog Ate My Homework is a Britishchildren'spanel show hosted by Iain Stirling and stars Chris Lawrence as Mr Smash and Ian West, previously Stephanie Fulton, as The Dog. The series previously starred Susan Morrison as a Dinner Lady and a School Nurse. The show is produced by CBBC Productions Scotland for CBBC that began on 17 January 2014.[1] A panel of two celebrities (usually comedians or CBBC stars) and a child doing various games and tasks. Series 2 began on 23 January 2015, a Christmas special aired on 16 December 2015, series 3 began on 8 January 2016 and series 4 began on 4 November 2016.[2] A fifth series will be filmed from 17 November to 10 December 2017.[3]
Format[edit]
The show features two teams, both with two celebrities (usually a CBBC star and comedian) and a child. They compete in various games and tasks, and the winning team get a gold star. Stirling can take, or give, gold stars as whenever he wants. He usually gives them when an answer makes him laugh. The team at the end of the show with the most gold stars wins.
Episodes[edit]
Series
Episodes
Originally aired
First aired
Last aired
Series 1
10
17 January 2014
28 March 2014
Series 2
11
23 January 2015
17 April 2015
Christmas Special
1
16 December 2015
Series 3
14
8 January 2016
28 March 2016
Series 4
13
4 November 2016
24 February 2017
Series 5
TBA
5 January 2018
2018
Series 1 (2014)[edit]
Series 2 (2015)[edit]
Christmas Special (2015)[edit]
Series 3 (2016)[edit]
Series 4 (2016-17)[edit]
Series 5 (2018)[edit]
Guest appearances[edit]
The following have all appeared multiple times as one of the guest panelists on the show.
Susan Calman, Dan Wright and Dodge T. Dog are the only panelists to have featured in every series. However, none of them featured in the stand-alone Christmas special.
The following have all made a single appearance as one of the guest panellists on the show:[5]
References[edit]
External links[edit]
Series 1, Episode 2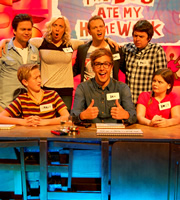 The super-student team captains are joined by children's favourites Sam and Mark, DNN's Victoria Cook and comedian Paul McCaffrey.
Broadcast details
Date

Friday 24th January 2014

Time

5pm

Channel

CBBC

Length

30 minutes
Repeats
Show past repeats
Sunday 26th January 2014 at 9:00am on CBBC
Sunday 26th January 2014 at 5:00pm on CBBC
Tuesday 8th April 2014 at 9:15am on CBBC
Tuesday 26th August 2014 at 10:05am on CBBC
Saturday 24th January 2015 at 3:10pm on CBBC
Wednesday 6th May 2015 at 10:15am on CBBC
Wednesday 6th May 2015 at 1:30pm on CBBC
Saturday 25th July 2015 at 6:05pm on CBBC
Tuesday 22nd September 2015 at 9:50am on CBBC
Tuesday 22nd September 2015 at 1:30pm on CBBC
Saturday 23rd April 2016 at 8:30pm on CBBC
Cast & crew